The Maroon 5 front man's California pad combines midcentury sophistication with a shot of bachelor attitude.
As anyone who has watched even a little MTV knows, Los Angeles rock-star bachelor pads tend to fall into two distinct categories: louche Vegas-like fantasies or high-tech digs crammed with the latest toys for boys.
And yet the home of arguably the most sizzling rock star on the planet right now—Adam Levine, the front man for Maroon 5—conforms to neither stereotype. His immaculately refurbished 1940s ranch-style dwelling, suspended high above the city, in the Hollywood Hills, and outfitted with classics by Jean Prouvé, Ludwig Mies van der Rohe, Arne Jacobsen, and other 20th-century-design icons, has a quiet, meticulous air. It is unmistakably the habitat of a man who is confident in his tastes.
To make the home truly compelling, Levine turned to longtime friend Mark Haddawy, a 20th-century-design collector and co-owner of Resurrection, a vintage-clothing boutique with branches in L.A. and Manhattan. Under Haddawy's guidance, Levine decided to tear down the internal walls, reducing the number of bedrooms from four to one. They added concrete floors and rosewood paneling throughout, and Carrara marble in the bathrooms to create a sensual contrast of surface textures. "Mark brought soul and color into the place," Levine notes. Says Haddawy, "For me, it's about the mix, not just in the materials we used, but in the art we bought for the house." The collection he and Levine began includes works by Jean-Michel Basquiat, Shepard Fairey, Mark Seliger, and Andy Warhol.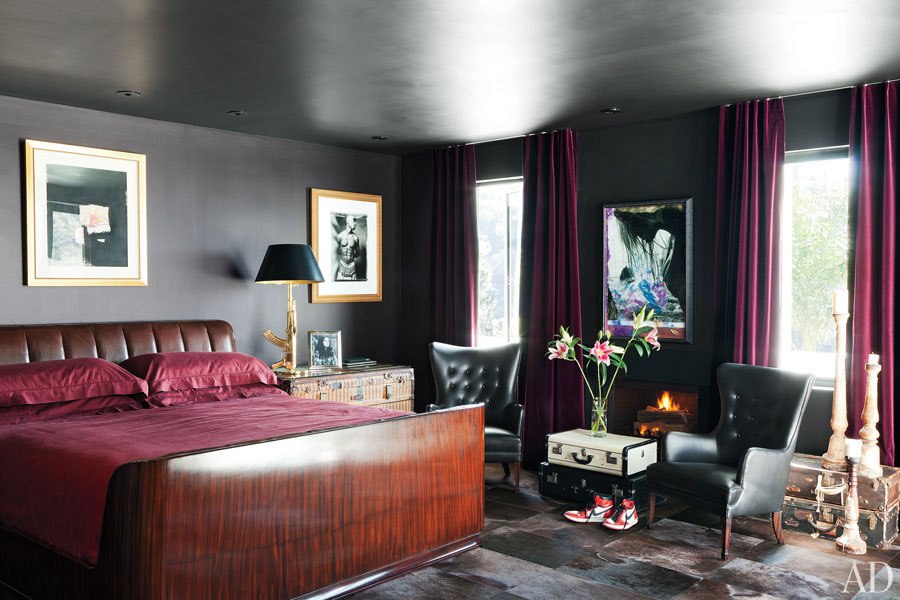 QUICK INFO ABOUT ADAM LEVINE

Adam Noah Levine (born March 18, 1979) is an American singer-songwriter, musician and actor best known as the front man and guitarist for American pop rock band Maroon 5. He is also a coach on the American talent show The Voice. Levine was born in Los Angeles to Fred and Patsy (née Noah) Levine. Levine attended French Woods Festival of the Performing Arts Camp (Hancock, NY) with best friend Jesse Carmichael, guitar player of the band known at that time as Kara's Flowers.